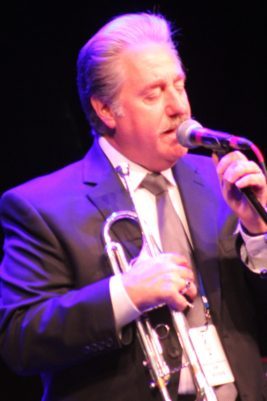 Lew Custode, leader, trumpet player and vocalist with the "Bar-room Buzzards" and co-leader of "Custode and Parisi" & "The Custode and Parisi Art Deco Orchestra" was inducted into the Niagara Falls Music Hall of Fame "Class of 2018" and has been performing in WNY for over 40 years. As an accomplished musician, he has performed with a wide variety of music ensembles including rock bands, jazz combos, commercial dance groups, big bands, brass quintets, pit orchestras concert and marching bands. Additionally, Lew taught many of Niagara Falls' aspiring young musicians in his private Trumpet Studio, was an instructor on staff for "The Music School of Niagara", participated in the acclaimed educational series "Music in Our Schools Program", and currently teaches Trumpet Clinics in area schools.
Career highlights & notable performances include "Custode & Parisi" recognized multiple times as "Buffalo's Best Jazz Act" (Artvoice: Best of Buffalo, 2015, 2014, 2013 & 2011), opening act for Rich Little at the Riviera Theatre, President Ronald Regan Memorial, After Party for Buffalo Philharmonic Pops Grand Finale, Queen City Jass Society Millennium Celebration, Ft. Niagara Visitors Center Grand Opening, Buffalo Sabres Stanley Cup Finals and Nick Wallenda High Wire over Niagara Falls.
Lew Custode has a long history of successfully working with local businesses and organizations throughout the Western New York and Southern Ontario region developing musical performance opportunities. He has coordinated concerts and events at numerous venues throughout his career, providing work for many local musicians and continues to perform regularly in Western New York. Lew, along with his wife Maria, resides in Lewiston, NY and is the proud father of Christina Custode.